ArchiteCTURE
Change and expansion 'State hospital St. Vincenz' Paderborn, Germany, 2014-2019
The former state hospital St. Vincenz is based in the old town of Paderborn, directly at the headwaters of the Pader. The monastery complex from the 17th century was converted to the headquarters of Tap Holding by David Chipperfield Architects.
The ensemble of buildings, which was used as hospital until 2012, was partially destroyed in the Second World War and extensively modified in the post-war-era. The existing building was rebuilt to its historical prominence before its destruction and what remained has been integrated into the new building. Inter alia the chapels' façade, the east wing and the historical basement were preserved. This shaped a structure of ruins with a unique cloister at its centre. The new building replenishes the remaining components, and picks up the structure of the former edifice.
The two/ three-storey newly constructed wings are arranged in North, West and South of the building according to the original orthogonal structure. Visitors can enter the two-storey entrance foyer and all further wings, crossing the court yard through the gate of the former chapel. On the ground floor there are publicly accessible areas, while the upper-storeys offer flexible office spaces for employees. Consisting of different building sections, the new building complex presents - just as it once did the historical monastery – a unified architectural composition on the cityscape. This architectural design adds not only identity but also a high degree of historical continuity to the Paderquellen – an area that reconnects urban space and landscape.
> David Chipperfield Website - Project Headquarter Tap Holding
Info Zeichnungen
Schwarzplan (Originalmaßstab 1:5000)
Dateiname 1084_06_D_SP_5000
Alle Zeichnungen sind zur einmaligen Verwendung bestimmt. Bildnachweis © David Chipperfield Architects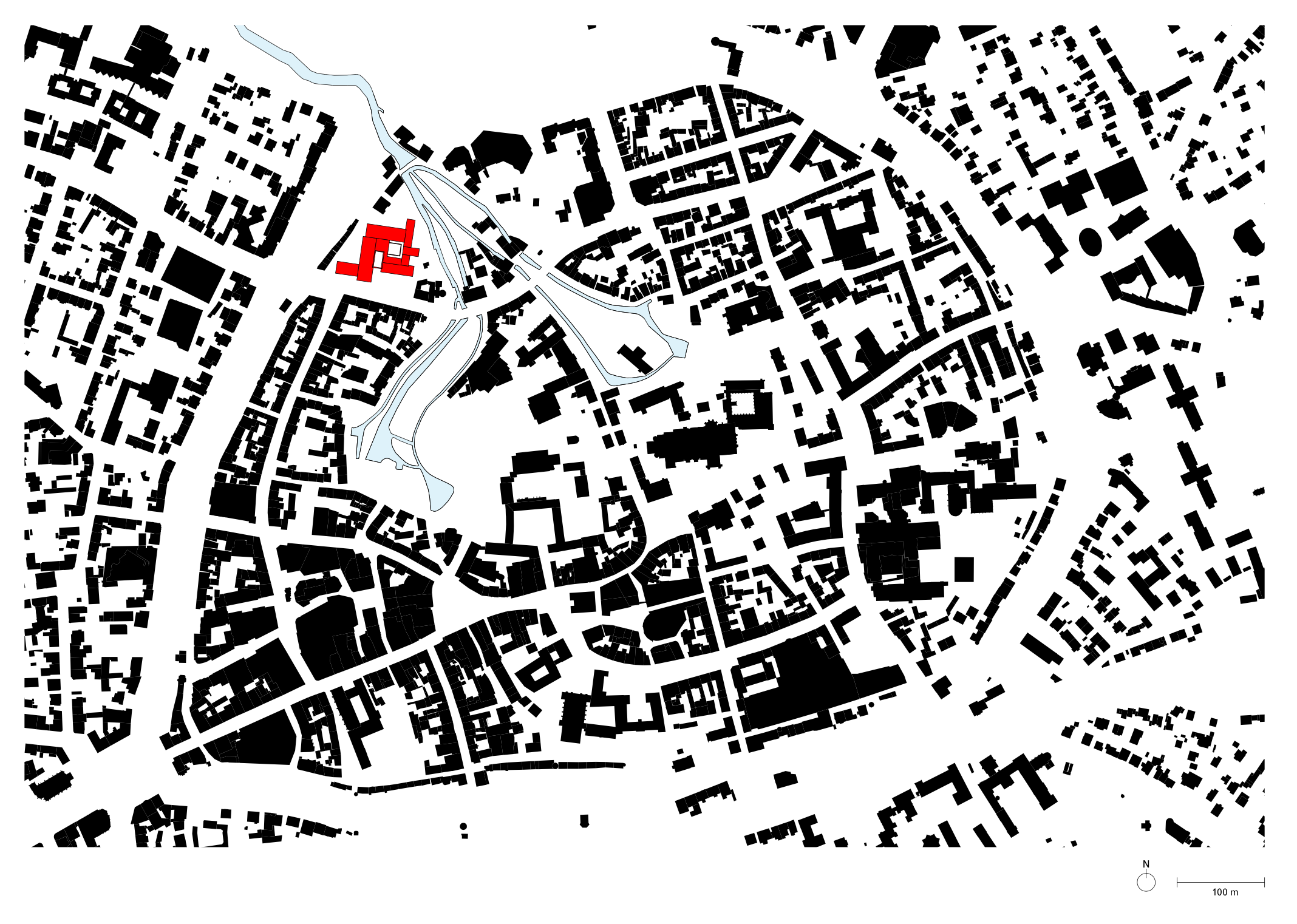 Lageplan (Originalmaßstab 1:1000)
Dateiname 1084_06_D_SP_1000
Alle Zeichnungen sind zur einmaligen Verwendung bestimmt. Bildnachweis © David Chipperfield Architects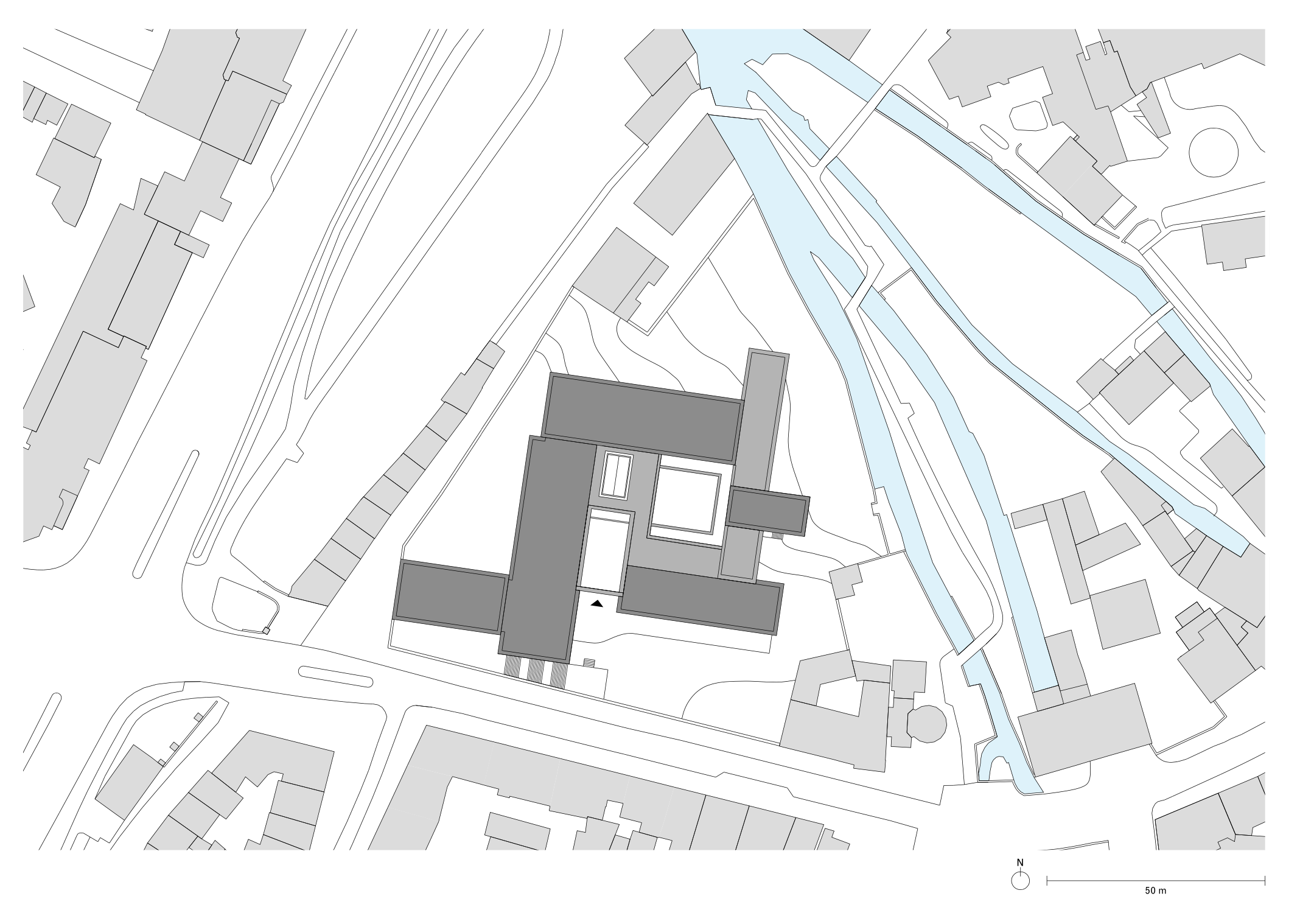 Ansicht Süd (Originalmaßstab 1:500)
Dateiname 1084_06_D_ES_500_colour
Alle Zeichnungen sind zur einmaligen Verwendung bestimmt. Bildnachweis © David Chipperfield Architects

Ansicht Ost (Originalmaßstab 1:500)
Dateiname 1084_06_D_EE_500_colour
Alle Zeichnungen sind zur einmaligen Verwendung bestimmt. Bildnachweis © David Chipperfield Architects

Ansicht Nord (Originalmaßstab 1:500)
Dateiname 1084_06_D_EN_500_colour
Alle Zeichnungen sind zur einmaligen Verwendung bestimmt. Bildnachweis © David Chipperfield Architects

Credits
| | |
| --- | --- |
| concept study | 2014 |
| project launch | February 2015 |
| start of construction | 2016 |
| panned completion | 2019 |
| gross floor | 7.300 m² |
| owner | Jacoby GbR |
| architct | David Chipperfield Architects Berlin |
| draftsman | Alexander Schwarz – Partner |
| project manager | Martin Reichert – Partner |
| project leader | Frithjof Kahl |
| project team | Franziska Rusch, Diana Schaffrannek, Thomas Schöpf, Eva Maria Stadelmann |
| architect work stage 5-9 | Schilling Planung, Köln |
| landscape architect | Wirtz International, Schoten, Belgien |
| structure planning | Gantert + Wiemeler Ingenieurplanung, Münster |
| building technology | Winkels Behrens Pospich, Münster |
| building physics / acoustics | Hansen Ingenieure, Münster |
| fire protection experts | HHP West, Bielefeld |